You need a gift. It could be for a teacher, parent, friend or coworker, and you want this gift to be unique. Candles are nice but they are all the same, taper candle molds, votive molds, cylinder molds, everything is in a container. It's time to think out of the box or mold! No need to google "candle making supplies near me", all the candle making supplies are right in your own home or office, just add Candle Sand! 
Candle Sand is a fine, sand like wax that pours into or onto most heat-resistant surfaces, add a wick piece and your done! It is just that simple! No need for a fancy container or votive, just look inside your own home or garage for a jar, dish, cup or that nick knack that someone gave you years ago that you don't know what to do with. Pour Candle Sand in it for personalized candles and home décor. 
Making sand candles is supper easy, no experience necessary. 
Kids love bright colors! Candle Sand offer a Craft Quality Candle Sand in bright, neon colors that can be layered or mixed. Let the imagination go wild and have fun creating and designing new worlds. Have kids add some interesting props that can be found around the house or rocks from the garden to have imaginary play time.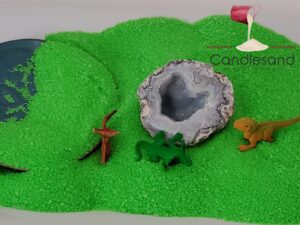 Creative Candle Making Ideas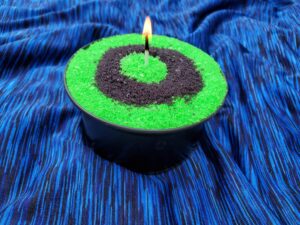 You read it right, No Experience Necessary!
You know what else you will NOT need?
Electric Wax Warmer
Taper Candle Mold
Candle Making Equipment
What you will need is some creativity and imagination!
It's time to think outside the candle mold and pour Candle Sand!