Candle Scents
A personal choice for you, but your pets may pay the price
Candle scents have been around for years and they have come a long way. However, what is not so known is the potential danger that fragrances can have on some pets. Just Googling "Candle Scents and Pets" brings up hundreds of results.
So, you just spent hours sniffing candle jars. You like this one scent, but the candle is boring, or the color is wrong or perhaps it is just too expensive! Maybe you want to give a candle as a gift, and you think "Who doesn't like Cinnamon?" Did you know that cinnamon candle scents can be harmful to dogs? And Cats can be affected by Eucalyptus. Not to mention birds, they are susceptible to almost everything.
Burning scented candles and even putting scents into diffusers can create airborne scents and chemicals. The use of fragrance blends that are Synthetic may be harmful to a pet's respiratory system.
Essential Oils Potentially Toxic to Cats
Wintergreen
Peppermint
Citrus oil (including lemon oil)
Tea tree oil (melaleuca oil)
Pine
Eucalyptus
Cinnamon
Pennyroyal
Sweet birch
Clove
Ylang ylang
Essential Oils Potentially Toxic to Dogs
Cinnamon
Citrus (d-limonene)
Pennyroyal
Peppermint
Pine
Sweet birch
Tea tree (melaleuca)
Wintergreen
Ylang ylang
Anise
Clove
Thyme
Juniper
Yarrow
Garlic
Candles
You have a choice
There is another choice, make your own candles and go a la naturale and make them unscented. Choose an all-natural wax such as palm wax. Paraffin wax, which is made from petroleum waste, has been linked to cause respiratory problems in pets.
Now you're probably thinking…DIY Candles! Nope not for me! It is true that traditional candle making is a long, involved process. You must have time, patients, and lots of money. The supply list is endless, everything from tapered candle molds to electric wax warmers. However, there is a new way of making personalized candles!
It's time to think outside the candle jar!
Candle Sand is todays answer to making custom candles that are nontoxic for pets and fun, creative way to make works of art! Making sand candles is as easy as 1, 2, 3!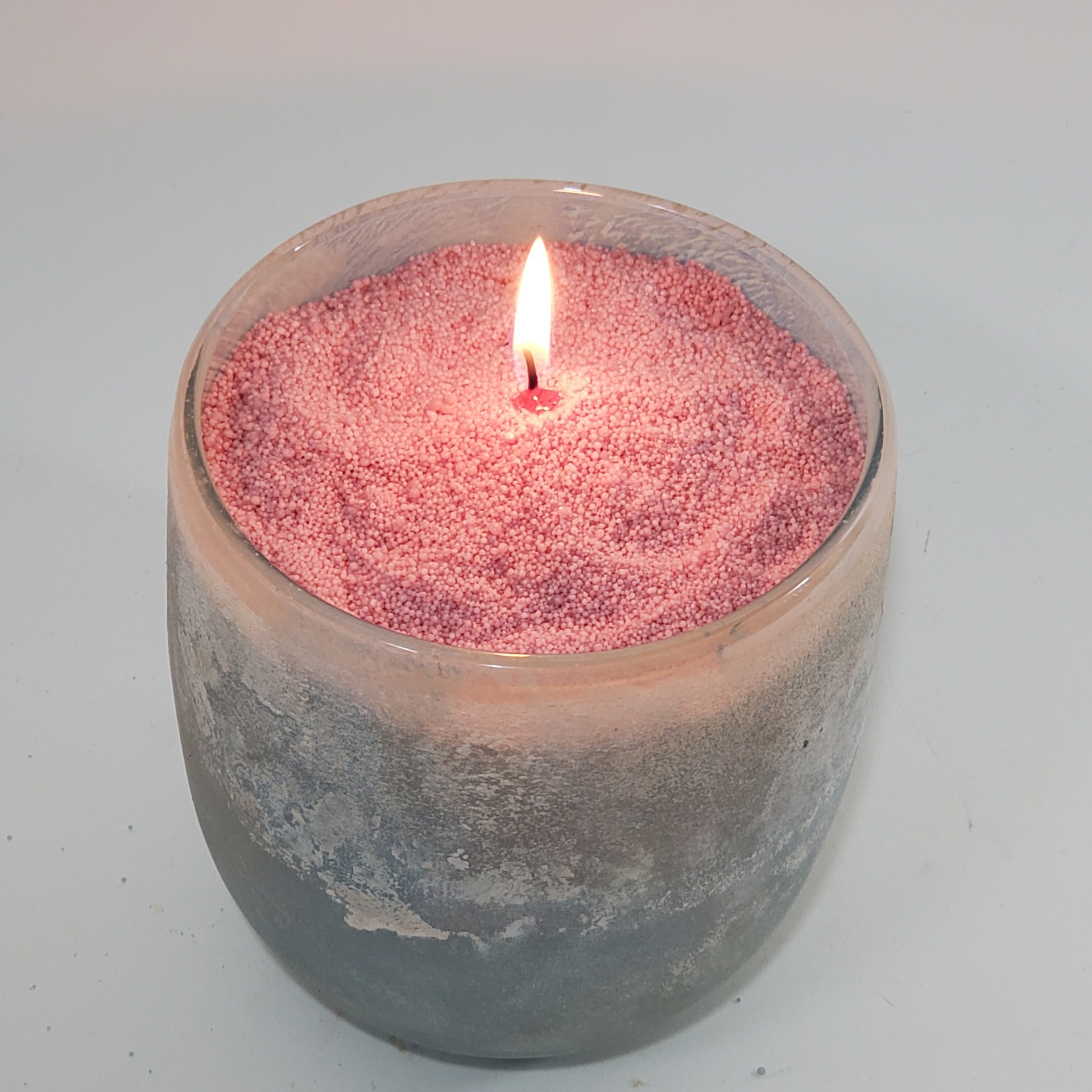 HOW TO MAKE CANDLES
3 EASY STEPS
Making sand candles are incredibly easy, no experience necessary!
Step 1
Pick your candle holder – A plate, cup, candy dish or soap dish that is heat-surface
Step 2
Choose your Candle Sand – Wax for candles. Pick your color!
Step 3
Insert wick – 2 8" wicks are included for FREE in each bag of Candle Sand
Looking to make gifts for friends, family or even to sell in your shop?
Create your own sand candle making kits.
Need a wedding centerpiece with floating candles? Candle Sand floats!
Baby shower ideas – put out a candle bar for guests to create their own sand candle to take home.
Your Candle Making Equipment is you Merchandise, just add Candle Sand!
Mix Candle Sand into the merchandise that you already sell. Show your customers the exciting possibilities of making sand candles.